In my book, I mention research carried out by scientists, in which they predict that we could be facing a sixth mass extinction of species within three generations of our time.  Indeed, it is this report which was behind the title of my book – "Three Generations Left?"  I give further details of this research report in chapter 1 of my book, which can be found on this website.
Then, in the news today, is the discovery of thousands of dead starfish – and other sea creatures – washed up on beaches in Kent.  People are speculating that the deaths have been caused by the intensely freezing weather conditions we have been experiencing in the UK over the last week. Indeed, there was a report of the sea freezing around the Isle of Sheppey, also in Kent.  The sea in this area is probably less salty than elsewhere, because several (freshwater) rivers flow into the sea here (Medway, Swale, Thames) but it is still a significant event for the sea around the British Isles to freeze.  At the same time, further north in the Arctic Circle, the ice was melting.
A similar mass death event occurred in 2014 off Mexico and Alaska, when millions of starfish died there, though this would appear to have been caused in that case by warmer seas and an outbreak of parvovirus in the starfish.
Dead starfish on a Kent beach
In a parallel theme, an article just over a week ago, in The Observer (Science and Tech section) by David Derbyshire, mentions a mass death event in Kazakstan in 2015, when  200,000 Saiga antelopes suddenly died in the grassy plains where they were feeding. This represented 60 per cent of the global population of Saiga antelopes and, as a result, they are now critically endangered. Derbyshire questions whether this mass death event was caused by climate change.  Other articles about this suggest that the animals died of hemorrhagic septicaemia, caused by a bacterium called Pasteurella multocida, which was  isolated in tissue samples from the dead animals.  This pathogen normally lives harmlessly in the respiratory tract of these antelopes but it appears to have run amok in 2015, causing the mass deaths.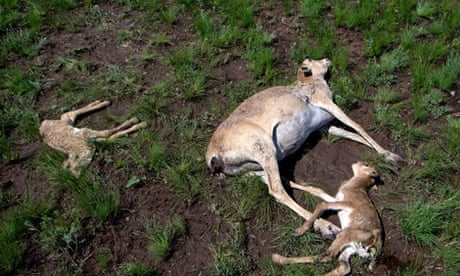 Further details can be found in:
https://www.theguardian.com/science/animal-magic/2016/apr/14/mass-death-saiga-antelope-kazakhstan-bacterial-infection
Mass mortality events (MMEs) – single catastrophic incidents that wipe out vast numbers of a species – are on the increase and may be triggered by climate change.  Other species that are affected by MMEs include starfish, bats, sardines and coral reefs.  The scientist who studied the 2015 antelope event, Richard Kock, published an article in Science Advances, which concluded that a rise in temperature, combined with an increase in humidity, had stimulated the bacteria to pass into the blood stream, where it caused blood poisoning and death.
In 2014, during a heatwave in Australia, 45,000 fruit bats (flying foxes) died on one hot day.
Climate change is leading to more extreme weather events and it is in these circumstances that we may observe more MMEs.  It would appear that some organisms live harmlessly within a species but, in extreme weather conditions, may rapidly increase, causing death an possible extinction.
In The Guardian on 22nd March 2018 is an article by Patrick Barkham, which reports that there has been a catastrophic decline in France's farmland birds (by 55% over three decades).  This includes skylarks, meadow pipits, partridges.  These declines mirror similar reductions in bird populations across Europe, whilst those species which have been able to adapt to urban areas have not declined.  The conclusion is that farmland is turning into a desert induced by increased use of pesticides.