Air pollution and Coronavirus
There is increasing evidence that the lockdown in multiple countries, in an effort to  reduce the spread of the coronavirus pandemic, has resulted in short-term reductions in air pollution and greenhouse gas emissions, especially in cities and focusing on nitrogen dioxide. Indeed, scans from space have been published, showing huge decreases in this polluting gas:
https://earthobservatory.nasa.gov/images/146362/airborne-nitrogen-dioxide-plummets-over-china
A new study published by Yaron Ogen in Science of the Total Environment suggests that long-term exposure to the pollutant, nitrogen dioxide (NO2), may be one of the most important contributors to 78% of fatalities caused by the COVID-19 virus in 66 administrative regions in Italy, Spain, France and Germany and maybe across the whole world. The image below is from the paper.
https://www.sciencedirect.com/science/article/pii/S0048969720321215  and
Science of The Total Environment, Volume 726, 15 July 2020, 138605
https://doi.org/10.1016/j.scitotenv.2020.138605
A similar study was published on April 22nd 2020:
In another analysis of trends in COVID-19 deaths, research  reported by the Guardian has shown that deaths are highest in the cities which are very polluted, suggesting that people living in such cities already have lung pathology caused by the pollution before catching the coronavirus.  See:
https://www.theguardian.com/environment/2020/apr/20/air-pollution-may-be-key-contributor-to-covid-19-deaths-study?utm_term=RWRpdG9yaWFsX0dyZWVuTGlnaHQtMjAwNDIy&utm_source=esp&utm_medium=Email&CMP=greenlight_email&utm_campaign=GreenLight
It suggests that 80% of deaths from coronavirus across four countries were in the most polluted areas.
However, a contradictory report from the UK, suggests that death rates have been higher in rural areas, though this may be linked to the greater number of elderly people living in such areas. There is still much to be learnt about this new virus.
But, is this reduction in pollution going to be enough to make a difference, indeed, of reversing the unrelenting march of increasing emissions of greenhouse gases, causing global warming and climate change?
Sadly, I think not, though it might become a wake-up call.  Scientists are already saying that, whilst there may be reductions in air pollution over major cities, and a temporary drop in carbon emissions, the overall trend is upwards, as there is already carbon, previously emitted, that is trapped in the upper atmosphere, that will take global warming beyond 3° unless we take serious action to follow the Paris agreement targets.
The problem as I see it is that panic has been caused by the effects of the lockdown on national and local economies. People are desperate for a return to "business as usual".  And one can understand that many people have been forced into poverty by the loss of their incomes due to social distancing measures and lockdown.  And, in some cases, the people who have been affected by it probably thought that their future income would be relatively stable and secure. This must be taken into account when planning for the future, once the pandemic and the lockdowns are over.
A UK motorway devoid of traffic during the coronavirus lockdown
Although there has been a demonstrated drop in nitrogen dioxide levels, carbon dioxide levels have continued unrelentingly.  Global carbon dioxide levels have hit a record high despite reports of localised improvements in air quality due to the coronavirus lockdown, according to reports.
The National Oceanic and Atmospheric Association (NOAA) released data showing that CO2 levels have risen steeply.
According to the US agency the monthly average CO2 concentrations, recorded at the Mauna Loa Observatory in Hawaii, were 416.21 parts per million (ppm) this year compared to 413.33ppm in April 2019.  Its the highest concentration since records began in 1958.
---
---
There are an increasing number of people who are hoping that the end of the pandemic will give an opportunity to rethink the economy, with a view to coming up with measures that do not damage the environment and put our world at risk. This subject has been tackled in Guardian articles and letters, published on 24th March 2020 by Colin Hines, Rosemund Aubrey and Carl Gardner:
https://www.theguardian.com/world/2020/mar/24/how-fresh-economics-can-tackle-coronavirus-and-climate-change
Another group who propound a circular economy – or doughnut economics – have circulated a long email, with plans for making Amsterdam the place to demonstrate that such ideas work.  Their email is copied in its entirety below (I apologise that some of the images are too small to be legible but this is their size in the original email). By clicking on the links provided, larger images can be seen by downloading the original documents.
---
---
Introducing the Amsterdam City Doughnut
from Kate Raworth (8.4.2020)
Today is the launch of the Amsterdam City Doughnut, which takes the global concept of the Doughnut and turns it into a tool for transformative action in the city of Amsterdam. It's also the first public presentation of the holistic approach to 'downscaling the Doughnut' that an international team of us have been developing for more than a year. We never imagined that we would be launching it in a context of crisis such as this, but we believe that the need for such a transformative tool could hardly be greater right now, and its use in Amsterdam has the chance to inspire many more places – from neighbourhoods and villages to towns and cities to nations and regions – to take such a holistic approach as they begin to reimagine and remake their own futures.
The Doughnut was first published in 2012, proposing a social foundation and ecological ceiling for the whole world. Ever since then people have asked: can we downscale the Doughnut so that we can apply it here – in our town, our country, our region? Over the past eight years there have been many innovative initiatives exploring different approaches to doing just that – including for the Lake Erhai catchment in China, for the nations of South Africa, Wales and the UK, and for a comparison of 150 countries.
Today sees the launch of a new and holistic approach to downscaling the Doughnut, and we are confident that it has huge potential at multiple scales – from neighbourhood to nation – as a tool for transformative action. Amsterdam is a great place for launching this tool because this city has already placed the Doughnut at the heart of its long-term vision and policymaking, and is home to the Amsterdam Donut Coalition, a network of inspiring change-makers who are already putting the Doughnut into practice in their city.
When the Doughnut meets Biomimicry
This new holistic approach to downscaling the Doughnut started out as a playful conceptual collaboration between the biomimicry thinker Janine Benyus and me, as we sought to combine the essence of our contrasting ways of thinking about people and place. It then became a collaborative initiative, led by Doughnut Economics Action Lab (we are so new we don't have a website yet – but watch this space!) working very closely with fantastic colleagues at Biomimicry 3.8, Circle Economy and C40 Cities, all collaborating as part of the Thriving Cities Initiative.
The result is a holistic approach that embraces social and ecological perspectives, both locally and globally. Applied at the scale of a city, it starts by asking this very 21st century question:

It's a question that combines local aspiration – to be thriving people in a thriving place – with a global responsibility to live in ways that respect all people and the whole planet. As Janine put it in her characteristically poetic way, 'when a bird builds a nest in a tree, it takes care not to destroy the surrounding forest in the process'. How can humanity also learn to create settlements big and small that promote the wellbeing of their inhabitants, while respecting the wider living communities in which they are embedded?
To dive into these issues, we explore four interdependent questions, applied in this case to Amsterdam:
These questions turn into the four 'lenses' of the City Doughnut, producing a new 'portrait' of the city from four inter-connected perspectives. Drawing on the city's current targets for the local lenses, as well as on the Sustainable Development Goals and the planetary boundaries for the global lenses, we compared desired outcomes for the city against statistical snapshots of its current performance (see the published tool for full details).
To be clear, this city portrait is not a report and assessment of Amsterdam: it is a tool and starting point, ideal for using in workshops to open up new insights and bring about transformative action. The current coronavirus lockdown means that such workshops are on hold at the moment, but changemakers in the city are already finding creative ways to sustain momentum, including through many of the 8 ways that set out below.
Our team at the Thriving Cities Initiative has also worked with city staff to create city portraits for Philadelphia, Pennsylvania and Portland, Oregon (these are not yet published) and the initial workshops that have been held to date in all three cities have brought together policymakers and change-makers in dynamic and thought-provoking discussions.
Workshops for city officials and community representatives in Philadelphia, Portland and Amsterdam, 2019
And here's what we think is the real opportunity. The City Portraits that our team has made are what we call public portraits of the cities – made using publicly available targets and data. What if a city were to turn this into its own self portrait, gathering together residents' lived experiences, their values, hopes and fears, their ideas and initiatives, their own understanding of their deep interconnections with the rest of world? The process of creating such City Self Portraits is, we believe, what will make this tool really take off.
Imagining Amsterdam's City Selfie…
The likelihood of this happening in Amsterdam is high, thanks to the newly launched Amsterdam Donut Coalition: a network of over 30 organisations – including community groups, commons-based organisations, SMEs, businesses, academia and local government – that are already putting Doughnut Economics into practice in their work. Working together they are becoming a catalyst for transformative change, generating inspiration and action within Amsterdam and far beyond.
The Amsterdam Donut Coalition, founding meeting, December 2019
If you are interested in applying this tool for downscaling the Doughnut to your own place – your neighbourhood, village, town, city, region, nation – please do let us know by filling in this short form. Doughnut Economics Action Lab is already working on creating version 2.0 of the methodology and, once ready, we plan to share it on our forthcoming platform, which will make working collaboratively like this far easier and more effective. Our newly created team at DEAL is currently focused on setting up this platform, so please be a little patient, and by the end of May we will get in touch with our plans for taking this downscaling work forward.
Everyone is likewise welcome to leave responses and suggestions about Amsterdam's City Doughnut, and the City Doughnut tool. I am currently focused on working with DEAL's fast-growing team, as well as homeschooling my two children, and looking out for my local community – so please do understand that I may not be able to reply personally, but you are of course welcome to comment and discuss with each other.
As we all start thinking about how we will emerge from this crisis, let us seek to be holistic in how we reimagine and recreate the local-to-global futures of the places we live. I believe this newly downscaled Doughnut tool has a great deal to offer and I look forward to seeing it turned into transformative action, in Amsterdam and far beyond.
There is also a report in The Guardian about this initiative:
https://www.theguardian.com/world/2020/apr/08/amsterdam-doughnut-model-mend-post-coronavirus-economy?fbclid=IwAR1jAAhLG-r0DvvJ4hLqyOxHWaJcJ15J-OBDVc8LkXNHvIqAYKm7RgApjnQ
---
---
Other groups, such as the World Economic Forum, believe that:
The coronavirus pandemic may lead to a deeper understanding of the ties that bind us on a global scale.
Well-resourced healthcare systems are essential to protect us from health security threats, including climate change.
The support to resuscitate the economy after the pandemic should promote health, equity, and environmental protection.
We live in an age in which intersecting crises are being lifted to a global scale, with unseen levels of inequality, environmental degradation and climate destabilization, as well as new surges in populism, conflict, economic uncertainty, and mounting public health threats. All are crises that are slowly tipping the balance, questioning our business-as-usual economic model of the past decades, and requiring us to rethink our next steps.
See: https://www.weforum.org/agenda/2020/04/climate-change-coronavirus-linked/
---
---
Carbon Brief has provided data to show the drop in carbon emissions that has occurred during lockdown, though they admit that it is early days to provide accurate data:
Analysis: Coronavirus set to cause largest ever annual fall in CO2 emissions
With dozens more countries enforcing lockdowns in response to the pandemic, a wide range of indicators show how transport use, electricity demand and industrial activity are being cut. Yet there have been few attempts, thus far, to quantify the consequences for global CO2 emissions.
To date, most global estimates have been based on informed speculation, or on forecasts of reduced GDP growth. Many have also warned that emissions will quickly rebound, unless the response to the pandemic can create lasting, structural changes towards net-zero emissions.
Here, Carbon Brief gathers the latest evidence on how the coronavirus crisis is affecting energy use and CO2 emissions around the world, as a way to sense-check the GDP-based estimates.
Five key datasets and projections are identified, covering roughly three-quarters of the world's annual CO2 emissions, including the entire output of China and the US, the EU carbon market, the Indian power sector and the global oil sector.
Carbon Brief analysis of this data suggests the pandemic could cause emissions cuts this year in the region of 1,600m tonnes of CO2 (MtCO2). Although this number is necessarily uncertain, countries and sectors not yet included in the analysis can be expected to add to the total.
Nevertheless, this tentative estimate is equivalent to more than 4% of the global total in 2019. As a result, the coronavirus crisis could trigger the largest ever annual fall in CO2 emissions in 2020, more than during any previous economic crisis or period of war.
Even this would not come close to bringing the 1.5C global temperature limit within reach. Global emissions would need to fall by more than 6% every year this decade – more than 2,200MtCO2 annually – in order to limit warming to less than 1.5C above pre-industrial temperatures.
To put it another way, atmospheric carbon levels are expected to increase again this year, even if CO2 emissions cuts are greater still. Rising CO2 concentrations – and related global warming – will only stabilise once annual emissions reach net-zero.
Emissions data challenges
It is important to stress before explaining Carbon Brief's analysis that there are many challenges when it comes to estimating the impact of the coronavirus pandemic on global emissions in 2020.
The most significant of these are timely data availability, attribution of any changes to coronavirus, and the huge uncertainty over the path and duration of the crisis.
For example, UK data on demand for petroleum products is published monthly, but the figures for January were only released at the end of March. Similarly, the 20 March release of UK tax data – including fuel duty receipts reflecting road-traffic volumes – only covers the month of February.
Estimates of annual global CO2 emissions are usually first published by the Global Carbon Project (GCP) in November or December of the year in question, but more definitive figures only arrive the following spring. Official emissions inventories can take years to be finalised.
The US Energy Information Administration (US EIA) publishes national energy data and emissions estimates only a few weeks in arrears. Yet in its 8 April weekly report on oil markets, it notes that, on a global basis, "real-time data remain limited".
Robbie Andrew, senior researcher in climate economics at the CICERO Center for International Climate Research in Norway and a contributor to the GCP, tells Carbon Brief:
"We get frequently updated economic stats, but environmental stats are just occasional. How would it change the way we think if, every time economic stats were published, there were environmental stats updated alongside?"
In terms of attributing any changes to the on-going pandemic, a long list of confounding factors cloud the picture. This means it is hard to attribute a changing indicator solely to coronavirus, given multiple reasons why fossil-fuel demand in March 2020 might have fallen, relative to the same month in previous years.
The mild winter across Europe and North America has cut demand for heating in the first quarter of the year, for example, making it cheaper to burn gas for power and industry. Temperatures also affect electricity demand. Adjustments to account for this are possible, but add complexity.
Renewable capacity was already rising, eating into the market share of fossil fuels, while sunny and windy weather has boosted the output of existing windfarms and solar parks relative to last year.
These trends, combined with low gas prices that were also unrelated to coronavirus, mean coal-fired electricity was already plummeting in many countries – and was expected to continue doing so.
As a practical example, German electricity got much cleaner in the first quarter of 2020, cutting emissions by 20m tonnes of CO2 (MtCO2). But only a quarter of this (5MtCO2) was due to the pandemic, according to analysis from the thinktank Agora Energiewende.
Second-order effects add to this already complicated situation. The drop in oil demand due to the pandemic is being compounded by a price war, in which Saudi Arabia and Russia have raised their output. This means oil prices are tumbling, as are those for gas, because of oil-linked contracts.
Finally, the unprecedented nature of the current crisis makes all forecasts and predictions even more than usually susceptible to being wrong. The duration of the crisis and the timing of lockdowns being lifted are particularly uncertain.
In its latest short-term projections, the US EIA says that it expects the biggest hit to oil demand in the second quarter of 2020, but that the reduction will only "gradually dissipat[e] over the course of the next 18 months". Its outlook notes:
"Although all market outlooks are subject to many risks, the April edition of EIA's Short-Term Energy Outlook is subject to heightened levels of uncertainty because the impacts of the 2019 novel coronavirus disease (Covid-19) on energy markets are still evolving."
Marcus Ferdinand, head of European carbon and power analytics for data provider ICIS, published one early analysis on 24 March, looking at how coronavirus would affect the EU Emissions Trading System (EU ETS). This covers EU emissions from electricity generation, industry and aviation.
Ferdinand told Carbon Brief on 3 April that while electricity sector data is "relatively good" and despite reasonable proxies being available for transport, there was still a lot of "guesswork" involved at this stage, particularly around the unknown depth and duration of the crisis.
His analysis started by looking at the effect of the 2008-9 global financial crisis, then drew on a mixture of hard data and news reporting of planned measures to extrapolate onto the current situation. He described the effort as a "first impact assessment" that would need to be refined as more data became available. Ferdinand told Carbon Brief on 3 April:
"I'm humble enough to know that I'm wrong. And I think every forecast, in this case, is wrong – unless there is pure luck – because there's so many unknowns. So I think what we painted here is one potential scenario of what could happen, if the circumstances were as we described them. If the circumstances are different – which we will find out when we get more and more data – then we will need to adjust our analysis."
Despite all of these challenges, there is plenty of data to draw on that points to significant – though uncertain – changes in CO2 emissions, as a result of the coronavirus crisis.
Estimated impact on global emissions
In order to start building up a global picture of how the pandemic is affecting energy use and emissions, Carbon Brief has been gathering evidence from a wide range of sources.
The information includes direct data, proxy indicators, news reports and third-party forecasts. It covers road-transport demand, aviation, industrial activity, economic output, electricity demand, air pollution, atmospheric carbon and other relevant markers.
In some countries and sectors, notably international aviation, the impact of the current crisis is so severe and dramatic that there can be little doubt it is due to other factors. Even so, a number of assumptions are needed to translate flight cancellations into tonnes of CO2.
Ferdinand tells Carbon Brief the index "has a strong correlation with German industry production", meaning it can provide "some early hints" regarding how economic activity will develop.
So far, five sets of data and existing analysis stand out as offering strong, timely and quantifiable evidence of the coronavirus crisis cutting global CO2 emissions in 2020. These cover the global oil sector, the EU ETS, India's electricity sector and the entire economies of the US and China.
More detail on all of the pieces of evidence gathered so far will be added to this article over time, with a particular focus on the key countries and sectors highlighted here. (Details of the estimate for China are contained in previously published Carbon Brief analysis; the EU ETS analysis is explained in detail in a report by ICIS analyst Marcus Ferdinand.)
Together, these five areas account for the large majority of annual global CO2 emissions, some three-quarters (76%) of the total in 2018, according to Carbon Brief analysis of data from ICIS and the International Energy Agency (IEA) World Energy Outlook 2019.
The chart below shows the combined estimated impacts for these five areas in red, alongside an illustrative range (grey bars) showing what a 1, 3 or 5% drop in annual emissions would look like in 2020. Below the dotted line, in blue, are the five largest annual falls ever recorded prior to this year.
As if to emphasise the fast-moving and uncertain nature of the current situation, consultancy Rystad Energy published a significantly updated estimate of the impact on global oil markets on 8 April, after Carbon Brief's analysis in the chart, above, had already been finalised.
Whereas the firm had earlier been aligned with the latest US EIA outlook of a roughly 5% decline in oil demand this year, it now expects a much larger 9.4% reduction for the year. This would increase the global oil sector component of CO2 emissions cuts this year from 816MtCO2 to 1,283MtCO2.
Carbon Brief's estimated coronavirus impact on emissions in 2020 is uncertain and incomplete, but amounts to some 1,600MtCO2 this year. This is already more than 4% of global emissions in 2019. (The Rystad forecast for oil would increase this to nearly 6% of 2019 emissions and 2,000MtCO2.)
The full report can be found by clicking on the weblink at the beginning of this section.
---
---
On a lighter note, it has been encouraging to see how it has not taken long for wildlife across the globe to come and take over our towns, helping themselves to greenery in our gardens and parks, maybe reclaiming the habitats we have stolen from them. The photographs below give examples of where this is happening in the UK.
Wild mountain goats in Llandudno
Deer in an east London suburb
Sheep on a roundabout in a deserted children's playground
Perhaps this gives a moment of cheer after the devastating images we have seen earlier this year, coming from Australia with the widespread bush fires there, destroying the lives of their unique fauna.
Another source of encouragement is the recent Big Garden Birdwatch in the UK, which has shown increases in the house sparrow, which was in decline, as well as other bird species.
The National Trust has reported some species which are thriving in lockdown: buzzards, orcas and cuckoos. Peregrine falcons are reported to be nesting in Corfe Castle, Dorset; partridges wandering in an empty Cambridge car park and Little Owls have been spotted at Ham House in London. Other species which have been reclaiming empty gardens and streets are otters, stoats, weasels, hares and insects.
And there are reports from Thailand, that the threatened species Dugongs are returning to the sea grass meadows around the tourist islands of Thailand, which are now quiet due to the pandemic. Other species of shark have also been seen in the area more readily.
Another report in the Guardian describes how reduced shipping in the oceans has made life better for marine creatures, such as whales:
"In cities, human lockdowns during the coronavirus pandemic have offered some respite to the natural world, with clear skies and the return of wildlife to waterways. Now evidence of a drop in underwater noise pollution has led experts to predict the crisis may also be good news for whales and other sea mammals.
Researchers examining real-time underwater sound signals from seabed observatories run by Ocean Networks Canada near the port of Vancouver found a significant drop in low-frequency sound associated with ships."
https://www.theguardian.com/environment/2020/apr/27/silence-is-golden-for-whales-as-lockdown-reduces-ocean-noise-coronavirus
Unfortunately, this optimistic note is not replicated across the globe, as the BBC reports that it has led to increased poaching:
"How the Covid-19 pandemic is threatening Africa's wildlife
A wildlife catastrophe is unfolding in Africa, according to park rangers and conservation experts.
They say the closure of safari tourism, due to the coronavirus pandemic, is decimating the industry, and leading to an increase in poaching.
The African tourism industry is worth almost $30 billion a year and employs almost four million people.
Experts and rangers on the ground say they are seeing a surge in poaching as thousands of unemployed people dependent on the industry turn to wild animals for food.
They also fear an upsurge in more organised poaching of endangered species."
https://www.bbc.co.uk/news/av/world-africa-52564615/how-the-covid-19-pandemic-is-threatening-africa-s-wildlife
---
---
Natasha Chassange has given an optimistic note in her piece for The Conversation, entitled "Here's what the coronavirus pandemic can teach us about climate change":
Every aspect of our lives has been affected by the coronavirus. The global economy has slowed, people have retreated to their homes and thousands have died or become seriously ill.
At this frightening stage of the crisis, it's difficult to focus on anything else. But as the International Agency has said, the effects of coronavirus are likely to be temporary but the other global emergency – climate change – is not.
Stopping the spread of coronavirus is paramount, but climate action must also continue. And we can draw many lessons and opportunities from the current health crisis when tackling planetary warming.
A 'degrowing' economy
S&P Global Ratings this week said measures to contain COVID-19 have pushed the global economy into recession.
Economic analyst Lauri Myllyvirta estimates the pandemic may have reduced global emissions by 200 megatonnes of carbon dioxide to date, as air travel grinds to a halt, factories close down and energy demand falls.
In the first four weeks of the pandemic, coal consumption in China alone fell by 36%, and oil refining capacity reduced by 34%.
In many ways, what we're seeing now is a rapid and unplanned version of economic "degrowth" – the transition some academics and activists have for decades said is necessary to address climate change, and leave a habitable planet for future generations.
Degrowth is a proposed slowing of growth in sectors that damage the environment, such as fossil fuel industries, until the economy operates within Earth's limits. It is a voluntary, planned and equitable transition in developed nations which necessarily involves an increased focus on the environment, human well-being, and capabilities (good health, decent work, education, and a safe and healthy environment).
Such a transformation would be profound, and so far no nation has shown the will to implement it. It would require global economies to "decouple" from carbon to prevent climate-related crises. But the current unintended economic slowdown opens the door to such a transition, which would bring myriad benefits to the climate.
The idea of sustainable degrowth is very different to a recession. It involves scaling back environmentally damaging sectors of the economy, and strengthening others.
A tale of two emergencies
Climate change has been declared a global emergency, yet to date the world has largely failed to address it. In contrast, the global policy response to the coronavirus emergency has been fast and furious.
There are several reasons for this dramatic difference. Climate change is a relatively slow-moving crisis, whereas coronavirus visibly escalates over days, even hours, increasing our perception of the risks involved. One thing that history teaches us about politics and the human condition in times of peril, we often take a "crisis management" approach to dealing with serious threats.
As others have observed, the slow increase in global temperatures means humans can psychologically adjust as the situation worsens, making the problem seem less urgent and meaning people are less willing to accept drastic policy measures.
Key lessons from coronavirus
The global response to the coronavirus crisis shows that governments can take immediate, radical emergency measures, which go beyond purely economic concerns, to protect the well-being of all.
Specifically, there are practical lessons and opportunities we can take away from the coronavirus emergency as we seek to tackle climate change:
Act early: The coronavirus pandemic shows the crucial importance of early action to prevent catastrophic consequences. Governments in Taiwan, South Korea and Singapore acted quickly to implement quarantine and screening measures, and have seen relatively small numbers of infections. Italy, on the other hand, whose government waited too long to act, is now the epicentre of the virus.
Go slow, go local: Coronavirus has forced an immediate scale-down of how we travel and live. People are forging local connections, shopping locally, working from home and limiting consumption to what they need.
Researchers have identified that fears about personal well-being represent a major barrier to political support for the degrowth movement to date. However with social distancing expected to be in place for months, our scaled-down lives may become the "new normal". Many people may realise that consumption and personal well-being are not inextricably linked.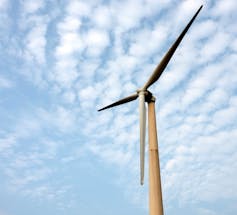 New economic thinking is needed. A transition to sustainable degrowth can help. We need to shift global attention from GDP as an indicator of well-being, towards other measures that put people and the environment first, such as New Zealand's well-being budget, Bhutan's gross national happiness index, or Ecuador's social philosophy of buen vivir (good living).
Spend on clean energy: The International Energy Agency (IEA) says clean energy should be "at the heart of stimulus plans to counter the coronavirus crisis".
The IEA has called on governments to launch sustainable stimulus packages focused on clean energy technologies. It says hydrogen and carbon-capture also need major investment to bring them to scale, which could be helped by the current low interest rates.
Governments could also use coronavirus stimulus packages to reskill workers to service the new "green" economy, and address challenges in healthcare, sanitation, aged care, food security and education.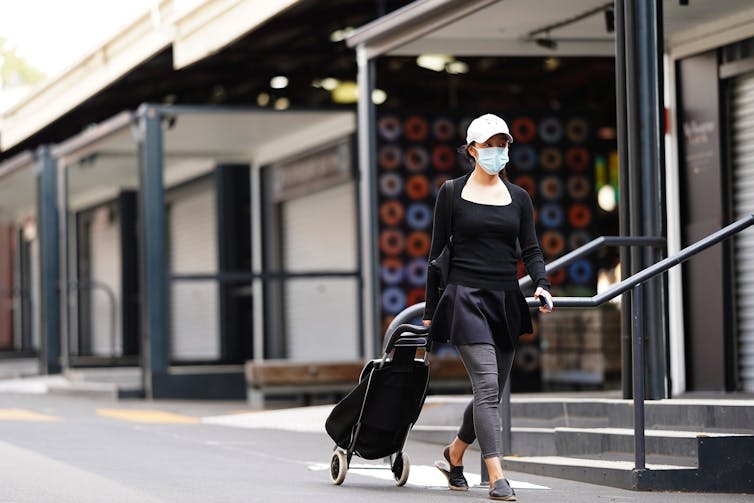 Looking ahead
As climate scientist Katharine Hayhoe said this month:
What really matters is the same for all of us. It's the health and safety of our friends, our family, our loved ones, our communities, our cities and our country. That's what the coronavirus threatens, and that's exactly what climate change does, too.
The coronavirus crisis is devastating, but failing to tackle climate change because of the pandemic only compounds the tragedy. Instead, we must draw on the lessons of coronavirus to address the climate challenge.
---
---
And in another Guardian article the suggestion is made that the oil industry will never recover, even after the pandemic has ended.  Written by Damian Carrington, Jillian Ambrose and Matthew Taylor on 1st April 2020, and begins:
"The plunging demand for oil wrought by the coronavirus pandemic combined with a savage price war has left the fossil fuel industry broken and in survival mode, according to analysts. It faces the gravest challenge in its 100-year history, they say, one that will permanently alter the industry. With some calling the scene a "hellscape", the least lurid description is "unprecedented".
A key question is whether this will permanently alter the course of the climate crisis. Many experts think it might well do so, pulling forward the date at which demand for oil and gas peaks, never to recover, and allowing the atmosphere to gradually heal.
The boldest say peak fossil fuel demand may have been dragged into the here and now, and that 2019 will go down in history as the peak year for carbon emissions. But some take an opposing view: the fossil fuel industry will bounce back as it always has, and bargain basement oil prices will slow the much-needed transition to green energy."
https://www.theguardian.com/environment/2020/apr/01/the-fossil-fuel-industry-is-broken-will-a-cleaner-climate-be-the-result
---
---
There have also been people who have linked the emergence of new deadly viruses and other diseases to deforestation.
https://politicalcleanup.wordpress.com/2020/04/12/covid-19-bulletin-7-climate-change-and-new-pathogens-linked-to-deforestation/
For example:
"Deforestation can also remove the habitat of insects and animals. In addition to 1990s information given to the writer by an Indian scientist, about the relationship between deforestation and malaria carried by mosquitos and monkeys in India, a 2019 study found that in Brazil a resurgence of malaria in recent decades paralleled rapid deforestation and settlement in the Amazon basin.
Pathogens are breaking through species boundaries because we are exploiting natural resources with unforeseen consequences – for instance:
overfishing in the coastal waters of many African countries by foreign fleets leads local populations to turn to bushmeat, increasing the likelihood (as with Ebola) that pathogens will be transmitted to humans.
Markets that trade wild animals are ideal locations for pathogens to cross boundaries. Some virologists attributed the Sars outbreak of 2002/2003 to contact with the civet cat eaten as a delicacy in some parts of China.
There are indications that the current coronavirus outbreak also spread to humans at a wildlife market in the Chinese city of Wuhan."
The writer of this article also draws attention to the organisation CHE – CO2 Human Emissions, which was set up for a short term to investigate the effects of human activity on carbon emissions, and is due to release a final report this year:
https://www.che-project.eu/news/main-sources-carbon-dioxide-emissions
and:
https://www.che-project.eu/news/che-starting-its-final-year-first-set-recommendation-reports
On their home page is this statement:
"There are both natural and human sources of carbon dioxide emissions. Natural sources include decomposition, ocean release and respiration. Human sources come from activities like cement production, deforestation as well as the burning of fossil fuels like coal, oil and natural gas.
Due to human activities, the atmospheric concentration of carbon dioxide has been rising extensively since the Industrial Revolution and has now reached dangerous levels not seen in the last 3 million years.1 2 3 Human sources of carbon dioxide emissions are much smaller than natural emissions but they have upset the natural balance that existed for many thousands of years before the influence of humans.
This is because natural sinks remove around the same quantity of carbon dioxide from the atmosphere than are produced by natural sources.4 This had kept carbon dioxide levels balanced and in a safe range. But human sources of emissions have upset the natural balance by adding extra carbon dioxide to the atmosphere without removing any
Carbon Dioxide Emissions: Human Sources
Since the Industrial Revolution, human sources of carbon dioxide emissions have been growing. Human activities such as the burning of oil, coal and gas, as well as deforestation are the primary cause of the increased carbon dioxide concentrations in the atmosphere.
87 percent of all human-produced carbon dioxide emissions come from the burning of fossil fuels like coal, natural gas and oil. The remainder results from the clearing of forests and other land use changes (9%), as well as some industrial processes such as cement manufacturing (4%)."
Planned reports:
"With the start of 2020 the CO2 Human Emission (CHE) project has entered its final 12 months of coordinated developments across its 22 partners institutes. The work has reached several important milestones that prepare "the baton" for the run into the next phase of development in 2021-2023, guided by the European Commission's CO2 Task Force strategy (see the CO2 reports) that will move us closer to operational monitoring targets.
A review and assessment of the CHE observational capabilities from existing networks and platforms has been prepared (D5.1 report) for CO2 and non-CO2 satellite observational components (e.g. CO, NO2) as well as for ground-based remote sensing and in-situ observations defining a clear set of recommendations.
The capacity building efforts for global, regional and local modelling have been studied and grouped in two areas, namely offline and online approaches. These research areas are explored and well delineated in the implementation strategy for the multi-scale modelling and data assimilation capabilities (D5.3 report and D5.5 report respectively) achievable within CHE and its follow-on. These reports are detailing the state- of-the-art modelling components (e.g. atmospheric transport, biogenic fluxes, anthropogenic emissions, biomass burning, ocean fluxes, and atmospheric chemistry) and data assimilation methodologies (e.g. 4DVAR, EnKF, Hybrid EnVar), highlighting a key set of recommendation and research priorities."
---
---
And factory farming of pigs (eg) has been linked to pandemics (Tracy Worcester email):
Factory farms, like wet markets, provide the ideal conditions for diseases such as the Covid-19 coronavirus to mutate, multiply and spread. A number of different coronaviruses have decimated pig populations in recent years, and it has been shown that some of these viruses could have (or have already) made the jump to humans (see below). This is deeply concerning, particularly amidst this global pandemic we are currently facing.
In March, the campaign group Pause the System took to the streets in front of Downing Street urging the UK government to ban factory farming amongst a set of measures to prevent any future pandemic outbreaks. Since then, many newspapers, journalists and writers have been speaking out about the links between public health, epidemics, pandemics and factory farming. We have a responsibility to put a halt to all the broken systems that contribute to viral pathogens, to reduce the possibility of this happening again. We need to ban factory farming. However, last month we were met with the devastating news that, in the UK, pig and chicken factory farming is actually continuing to rise.
Please read and share widely our blog article that discusses the link between factory farming and viruses. We can all help bring factory farming to an end by only buying high welfare pork from small scale high welfare farms. Look for high welfare labels like RSPCA Assured, Free Range or best of all, Organic – Or go direct to your farmer via farmers markets, box schemes and online.
---
---
---
The Chair of Scientists for Global Responsibility (SGR), Dr Phil Webber, has written a piece about the pandemic and its implications for policies related to health, social justice, science, economics, environmental protection and security.  Entitled "Covid-19: time for a paradigm shift?", it can be found at:
https://www.sgr.org.uk/resources/covid-19-time-paradigm-shift
Dr Philip Webber
The whole article is well worth reading but I copy below the last two sections, as they particularly apply to climate change and international co-operation:
"Acting on climate change would be easier than tackling Covid-19
Clearly governments could have already acted to deal with a range of other very serious international challenges. An obvious one, which had been rapidly climbing the international political agenda before Covid-19, was the need for urgent action to move the global economy to zero-carbon emissions within a few decades. Most experts agree that insufficient action has been taken. The political arguments instead – rather pointlessly – have focused on what the target year for zero emissions should be rather than actually allocating sufficient resources to bring down emissions by at least 7% per year for ten years or more.  
But actions to combat climate change and to move to a zero-carbon economy would often pay for themselves. For example, a recent detailed study of home insulation and renewable energy technology installation across the UK found that spending of £90bn up to 2035 would result in benefits slightly exceeding that amount. This was the case even while sticking to the Government's own financial guidelines.
In any case, the economic, human and ecological impacts of not taking action to combat climate change including major sea level rises, extreme weather, crop failures, in the longer term (2050 – 2100) cannot easily be converted into £ or $ 'cost' terms. But even narrow economic estimates suggest a cost range of 5-20% of GDP, far exceeding the 'cost' of allocating large resources now to transition to a zero-carbon economy of around 2% of GDP/ year over the next decade.
 
International cooperation and action
The early impacts of the Covid-19 virus have made it very clear that worldwide action is needed to minimise deaths and economic disruption.
The virus threat will have been dealt with – hopefully – within 18 months once a vaccine is found, although the risk will remain of the virus mutating and causing successive rounds of infection. The other huge threats to the safety of our world and our health remain. Dealing with dangerous climate heating requires a huge financial effort comparable to that needed to deal with coronavirus, lasting at least ten years. Eliminating the risk of nuclear annihilation requires the political will to cooperate to reduce and dismantle thousands of nuclear weapons capable of killing hundreds of millions of people within hours and potentially billions within in years.
Covid-19 has shown us how we can cooperate, or at least act together independently, unilaterally, towards a common goal. It shows how we must act to protect, 'sanitise', our everyday lives with well-funded, strong health systems. In the same way we need well-funded climate protection programmes – like a public health programme only for the climate – which would create large numbers of worthwhile jobs, get the economy moving again sustainably and improve health and reduce poverty. This would be popular too. A recent survey found that the public by a large margin want governments to respond "with the same urgency to climate change as it has with Covid-19".
To deal with nuclear weapons we need international political agreements to avoid nuclear catastrophe by mistake, equipment failure, cyber-attack or a foolish or warlike leader. As a result, 122 nations have developed a new approach – the UN nuclear ban treaty – to gradually sanitise the globe of the nuclear danger.
SGR urges the nations of the world to learn the lessons of Covid-19 and to act positively to protect us all against the coming disaster of climate heating – including huge sea level rises and violent weather – and the pent up unimaginable risk posed by 14,000 nuclear weapons with 1,800 currently ready to fire within minutes – which would effectively end human civilisation. We need many more nations – not least the UK – to step up and show leadership against disaster."
 
Dr Philip Webber is Chair of Scientists for Global Responsibility (SGR).
Thanks to Stuart Parkinson for editorial input.
---
---
Another Guardian article entitled "Halt destruction of nature or suffer even worse pandemics, say world's top scientists" starts by saying:
"The coronavirus pandemic is likely to be followed by even more deadly and destructive disease outbreaks unless their root cause – the rampant destruction of the natural world – is rapidly halted, the world's leading biodiversity experts have warned.
"There is a single species responsible for the Covid-19 pandemic – us," they said. "Recent pandemics are a direct consequence of human activity, particularly our global financial and economic systems that prize economic growth at any cost. We have a small window of opportunity, in overcoming the challenges of the current crisis, to avoid sowing the seeds of future ones."
Professors Josef Settele, Sandra Díaz and Eduardo Brondizio led the most comprehensive planetary health check ever undertaken, which was published in 2019 by the Intergovernmental Science-Policy Platform on Biodiversity and Ecosystem Services (IPBES). It concluded that human society was in jeopardy from the accelerating decline of the Earth's natural life-support systems."
https://www.theguardian.com/world/2020/apr/27/halt-destruction-nature-worse-pandemics-top-scientists
---
---