The World Economic Forum, on it's web page has made the announcement in the title of this post.  They say that true sustainability will only be achieved through drastic lifestyle changes.
https://www.weforum.org/agenda/2020/07/affluence-bigger-threat-than-coronavirus-scientists-capitalism
The article is headed by a massive photograph of landfill rubbish and goes on to state the following:
Affluence is the biggest threat to our world, according to a new scientific report.
True sustainability will only be achieved through drastic lifestyle changes, it argues.
The World Economic Forum has called for a great reset of capitalism in the wake of the pandemic.
A detailed analysis of environmental research has revealed the greatest threat to the world: affluence.
That's one of the main conclusions of a team of scientists from Australia, Switzerland and the United Kingdom, who have warned that tackling overconsumption has to become a priority. Their report, titled Scientists' Warning on Affluence, explains that true sustainability calls for significant lifestyle changes, rather than hoping that more efficient use of resources will be enough.
This assertion is taken from an article published in Nature Communications 11, Article 3107 (2020), the Abstract of which is as follows:
For over half a century, worldwide growth in affluence has continuously increased resource use and pollutant emissions far more rapidly than these have been reduced through better technology. The affluent citizens of the world are responsible for most environmental impacts and are central to any future prospect of retreating to safer environmental conditions. We summarise the evidence and present possible solution approaches. Any transition towards sustainability can only be effective if far-reaching lifestyle changes complement technological advancements. However, existing societies, economies and cultures incite consumption expansion and the structural imperative for growth in competitive market economies inhibits necessary societal change.
The reference for the article is:
https://www.nature.com/articles/s41467-020-16941-y#Fig2
and it is published by Thomas Wiedmann, Thomas Lenzen, Lorenz T. Keysser and Julia Steinbergen,
The figure below is taken from the article and is entitled "The Safe and Just Space for Humanity" and is reproduced on the WEF website.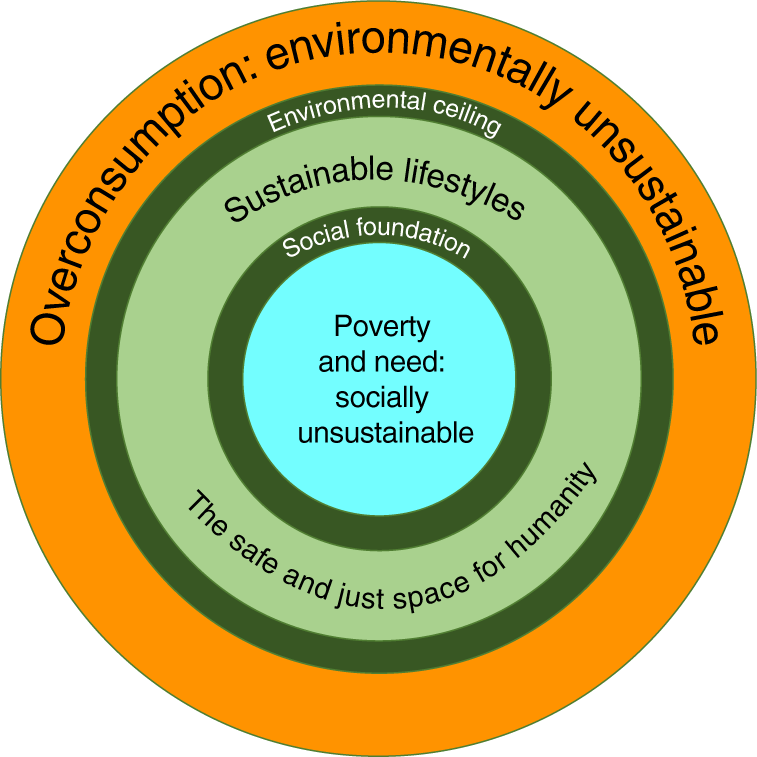 ---
---