After much campaigning from environmental groups, such as Extinction Rebellion, Friends of the Earth, Climate Action West Midlands, a cross-party motion was debated by the Council on June 11th 2019 and passed unanimously.
Coinciding with the debate was a demonstration outside the Council House, by various groups, including young people, and the presentation of a petition from Extinction Rebellion, which was signed by over 3,000 people, calling for the Council to:
Debate the climate emergency motion at full council;
Pledge to make the city of Birmingham carbon neutral by 2025;
Call on Westminster to provide the powers and resources to make this target achievable;
Work with other local authorities on methods to limit Global Warming to less than 1.5°C;
Work with partners across the West Midlands to deliver this goal;
Report to Full Council within six months with the actions the Council will take to address this emergency.
This is a brief interview conducted outside the Council House by the BBC's Regional programme Midlands Today:
https://www.dropbox.com/s/urz1aypui8cvd5o/2019-06-11%20BCC%20Climate%20Emergency%20Petition%20BBC%20Midlands%20Today%2013-30.mp4?dl=0
The knowledge about the imminent presentation of this petition triggered councillors into presenting their own cross-party motion for debate on 11th June.
The motion debated was as follows:
To consider the following Motion of which notice has been given.
Councillors Robert Alden, Roger Harmer, Julien Pritchard and Lisa Trickett as proposers and Councillors Jon Hunt, Suzanne Webb and Waseem Zaffar as seconders have given notice of the following Notice of Motion:-
"This Council notes that
• The Climate Crisis is an existential threat that requires us to change the way we invest in, grow and sustain our cities and regions.
• The Intergovernmental Panel on Climate Change (IPCC) report published in October 2018 set out the devastating consequences for the planet if it warmed more than 1.5C – with increased extreme weather with heatwaves and floods driving mass migration and global insecurity; the catastrophic social and ecological impacts worsening for
every degree of warming.
• The impact of climate change will not just be felt in far-away lands or coastal areas, the impact on Birmingham residents of increased extreme weather events, including flooding, droughts and heatwave is likely to be profound, with increasing risks to both life and property. Given our global footprint and the diversity of the city the climate crisis will hit at the heart of families and communities within the city.
• Given the planet is currently heading for 3-4C warming, keeping to 1.5C requires a radical shift across energy, land, industrial, urban and other systems to reduce emissions, unprecedented in history for the breadth, depth and speed of change required.
• All governments (national, regional and local) have a duty to limit the negative impacts of Climate Breakdown and in recognising this local government should not wait for national government to change their polices. It is important for the residents of Birmingham, the Region and the UK that cities commit to zero carbon as quickly as possible.
• Birmingham and the West Midlands, as the birthplace of the Industrial Revolution and a global player in the development of green technology, is ideally placed –- and has a moral responsibility to lead a new Green
Industrial Revolution that delivers clean and inclusive growth.
• Birmingham City Council has already made progress in addressing the issue of Climate Change, having adopted a target to cut Carbon Dioxide emissions by 60% by 2027 from a 1990 baseline and has already cut emissions by 33% (as of 2015).
• Unfortunately, current plans and actions are not enough. Transition in time requires a system change that drives decarbonisation whilst delivering justice and jobs.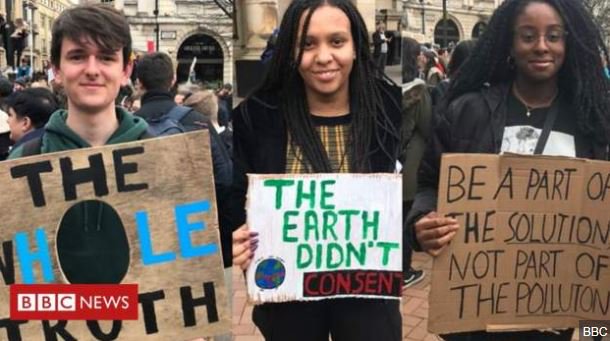 A group of young people demonstrating outside the Council House
After debating the motion, the Council resolved:
• To declare a climate emergency.
• To aspire for the City to be net zero carbon by 2030 or as soon after as a just transition permits – making sure we take communities with us, protecting employment and without impoverishing deprived communities.
• To work with the WMCA and seek from the UK Government the powers and resources to help Birmingham deliver the 2030 net zero carbon ambition for a just transition.
• That the Council will lead by example and seek to be net zero carbon by 2030 – again ensuring that this is just – taking communities with us, protecting employment and without impoverishing deprived communities.
• To constitute a Climate Emergency Task Force to support the Council move from declaration to delivery drawing in cross sector, expertise, capacity and capability to capture the investment and economic opportunity arising from a low carbon future.
• To quickly set in place a process of engagement and collaborative action that enables the Task Force to bring forward to Full Council in January 2020 a plan that sets out how the aspiration for the City and the ambition of the Council to be net zero carbon by 2030 can be best achieved.
• As a matter of urgency to review planned Transport, Housing, Waste and Energy Investment plans and policies to ensure they are fit to support a transition to a zero-carbon future with Sustainability and Transport Overview and Scrutiny monitoring progress and to provide an update to Council in November 2019 and annually thereafter."
---
---
The Council motion had watered down some of XR's demands, such as the target date for becoming Carbon Neutral – 2030, as opposed to 2025 – but this is a closer target than that being promoted by Parliament.  Another request from XR was to debate the issues in a Citizens' Assembly.  Details of this can be found in XR's Briefing paper, which was sent to every member of the Council in advance of the Council meeting.  Copies of this paper, which outlines what other local authorities are doing, can be provided on request – or downloaded from the shared drive mentioned below.
---
The 38 degrees website was used to collate most of the signatures to the petition.  Their summary of the Council response is:
On Tuesday 11th June Birmingham City Council declared a climate emergency!
All 83 councillors who turned up to the meeting (out of possible 101) voted for the motion. Extinction Rebellion were named as part of the debate and the young people involved in the school climate strike were referenced multiple times. Many councillors spoke and covered a range of topics including energy, transport, education, housing, waste, divestment of pension funds and investment and system change. The petition was submitted with over 3000 signatures.
This decision has placed the UK's second largest city on the climate crisis map of those willing to take action. Thank you so much for your support so far! Now we must ensure that action happens! If you want to stay involved, here are a few of the local groups that will continue to support, monitor and put pressure on the council:
https://www.facebook.com/birminghamfoe/
https://www.facebook.com/extinctionrebellionbirmingham/
https://www.facebook.com/CANWM/
https://www.facebook.com/bhamyouthstrike4climate/
https://www.facebook.com/ecobirmingham/
https://www.facebook.com/FootstepsBCF/
Please do reply to this email if you have any questions! And thank you once again for taking part in this campaign!
https://you.38degrees.org.uk/petitions/birmingham-city-council-declare-a-climate-emergency-and-take-action-1
---
---
Subsequent to this motion being passed by the Council, information has been received that it is setting up a Task Force, meeting for the first time on October 17th 2019. Various groups have been invited to send representatives onto the Task Force.  Unfortunately, Extinction Rebellion is not one of them, though some XR members will represented on other groups, such as Climate Action West Midlands, Footsteps, Green Coalition, Client Earth.  Friends of the Earth is another organisation not invited onto the Task Force.
See: https://www.birmingham.gov.uk/news/article/472/birmingham_climate_taskforce_announced
A small group of Birmingham citizens from some of the above organisations has been meeting regularly in workshop format to prepare material to submit to the Task Force.  It includes information/recommendations collated from a whole range of documents, which can be found on a shared drive at:
https://drive.google.com/drive/folders/1JN_bwrzV47StsjBtYYxg_B-oIKqvOUNJ
As this work progresses, further information will be shared on this site.
---
---