A recent report in the Financial Times draws attention to the consequences of three years' of drought on the economies of these two European countries.
https://www.ft.com/content/6b46014e-cbf6-4152-a8ad-087cddd51706?accessToken=zwAAAXQDjpTwkc9rRgFOy_ZBUtOorQh83dUXBg.MEUCIQDyEMkj2Cj8TMa7qRqDabhw7ocMpq6cQ6xHQC-HP1DjZQIgapz617D_1xuy4LAXIjDrh7a5FE0VKETFx7P7TGAHV4w&sharetype=gift?token=5e8613f3-b74d-412c-9852-f0c2e9f3a627
A dried-up river bed in Germany
Parts of continental Europe have been struck by drought for the third year in a row, with desiccated pastures in France's Loire valley, campsites near Marseille destroyed by a forest fire, hosepipe bans in western Germany and fish farms in Saxony running short of fresh water.
This year's July was the driest in France since 1959 according to the national weather office, with less than a third of normal rainfall, while the average temperature between January and July was the highest since its records began.
Germany had one of its driest spring seasons in more than a century this year, and rainfall in July was nearly 40 per cent below normal.  There are fears that there will be a repeat of the low water levels on Germany's major rivers, such as the Rhine, that happened two years ago, disrupting shipping and hitting the country's economy.
"The heat has been roasting everything," said Clément Traineau, a cattle farmer near Angers on the Loire. "We had not a drop of water in July."
A report in Nature demonstrated that the drought over the two previous consecutive summers (2018-19) was unprecedented in the last 250 years.  The long dry summer of 2003 had been devastating for crops but their predictions suggested that drought, caused by climate change, is more likely to feature in the future.
https://www.nature.com/articles/s41598-020-68872-9
Their data also suggested that there has been an increase in the area affected by drought in recent years (see figures below).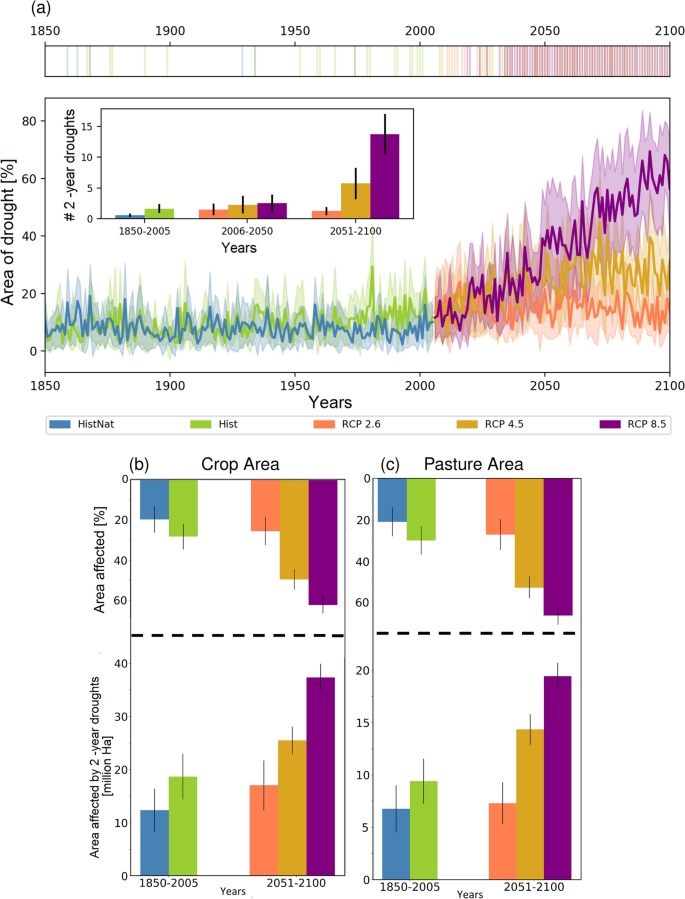 ---
---