A UN Report launched in Paris yesterday (6th May 2019) is the result of 3 years of study of species across the world.  It concludes that up to 1,000 animal and plant species are at risk of extinction and that things are happening faster than we realised.
UN Report: Nature's Dangerous Decline 'Unprecedented'; Species Extinction Rates 'Accelerating'
The IPBES Global Assessment Report on Biodiversity and Ecosystem Services is the most comprehensive ever completed. It is the first intergovernmental Report of its kind and builds on the landmark Millennium Ecosystem Assessment of 2005, introducing innovative ways of evaluating evidence.
Compiled by 145 expert authors from 50 countries over the past three years, with inputs from another 310 contributing authors, the Report assesses changes over the past five decades, providing a comprehensive picture of the relationship between economic development pathways and their impacts on nature. It also offers a range of possible scenarios for the coming decades.
The average abundance of native species in most major land-based habitats has fallen by at least 20%, mostly since 1900. More than 40% of amphibian species, almost 33% of reef-forming corals and more than a third of all marine mammals are threatened. The picture is less clear for insect species, but available evidence supports a tentative estimate of 10% being threatened. At least 680 vertebrate species had been driven to extinction since the 16th century and more than 9% of all domesticated breeds of mammals used for food and agriculture had become extinct by 2016, with at least 1,000 more breeds still threatened.
Other notable findings of the Report include:
Three-quarters of the land-based environment and about 66% of the marine environment have been significantly altered by human actions. On average these trends have been less severe or avoided in areas held or managed by Indigenous Peoples and Local Communities.
More than a third of the world's land surface and nearly 75% of freshwater resources are now devoted to crop or livestock production.
The value of agricultural crop production has increased by about 300% since 1970, raw timber harvest has risen by 45% and approximately 60 billion tons of renewable and nonrenewable resources are now extracted globally every year – having nearly doubled since 1980.
Land degradation has reduced the productivity of 23% of the global land surface, up to US$577 billion in annual global crops are at risk from pollinator loss and 100-300 million people are at increased risk of floods and hurricanes because of loss of coastal habitats and protection.
In 2015, 33% of marine fish stocks were being harvested at unsustainable levels; 60% were maximally sustainably fished, with just 7% harvested at levels lower than what can be sustainably fished.
Urban areas have more than doubled since 1992.
Plastic pollution has increased tenfold since 1980, 300-400 million tons of heavy metals, solvents, toxic sludge and other wastes from industrial facilities are dumped annually into the world's waters, and fertilizers entering coastal ecosystems have produced more than 400 ocean 'dead zones', totalling more than 245,000 km2 (591-595) – a combined area greater than that of the United Kingdom.
Negative trends in nature will continue to 2050 and beyond in all of the policy scenarios explored in the Report, except those that include transformative change – due to the projected impacts of increasing land-use change, exploitation of organisms and climate change, although with significant differences between regions.
The Report also presents a wide range of illustrative actions for sustainability and pathways for achieving them across and between sectors such as agriculture, forestry, marine systems, freshwater systems, urban areas, energy, finance and many others. It highlights the importance of, among others, adopting integrated management and cross-sectoral approaches that take into account the trade-offs of food and energy production, infrastructure, freshwater and coastal management, and biodiversity conservation.
Also identified as a key element of more sustainable future policies is the evolution of global financial and economic systems to build a global sustainable economy, steering away from the current limited paradigm of economic growth.
The Chair of the panel launching the report, Sir Robert Watson is quoted as saying, "The health of the ecosystems on which we and other species depend is deteriorating more rapidly than ever. We are eroding the very foundations of economies, livelihoods, food security, health and quality of life worldwide. "We have lost time. We must act now."
Sir Bob Watson, Chair of IPBES
David Obura, one of the main authors on the report and a global authority on corals, said: "We tried to document how far in trouble we are and to focus people's minds, but also to say it is not too late if we put a huge amount into transformational behavioural change. This is fundamental to humanity. We are not just talking about nice species out there; this is our life-support system."
Three-quarters of all land has been turned into farm fields, covered by concrete, swallowed up by dam reservoirs or otherwise significantly altered. Two-thirds of the marine environment has also been changed by fish farms, shipping routes, sub-sea mines and other projects. Three-quarters of rivers and lakes are used for crop or livestock cultivation. As a result, more than 500,000 species have insufficient habitats for long-term survival. Many are on course to disappear within decades.
Further information can be found at:
https://www.theguardian.com/environment/2018/mar/23/destruction-of-nature-as-dangerous-as-climate-change-scientists-warn
---
---
Since 1992, the world's urban area has doubled – largely at the expense of tropical forests, wetlands and grasslands – a process that is decoupling our consumption habits from the means of production, and severing our understanding of our dependency on the natural world.
"There are people that really understand the linkage, although they don't live it," says Sebsebe Demissew, professor of plant systematics and biodiversity at Addis Ababa university. He has spent decades collecting and documenting plants across Africa, often working with indigenous and traditional peoples.
"But there are other people that don't even think that nature's contribution to people is so important, because sometimes if you are in town what you are really concerned about is what bread or something would cost, rather than its effect on a poor farmer."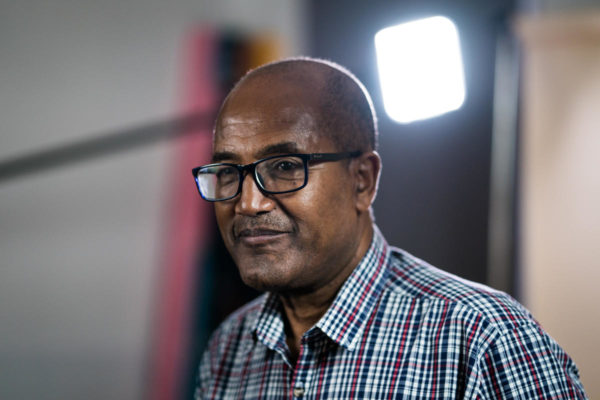 Prof. Sebsebe Demissew, of Addis Ababa University
---
---
In short, what is happening can be described by the subtitle of my book "Human Activity and the destruction of the planet."
Is it too late to reverse the trend? Many of my colleagues in the climate action movement fear it is too late, though others are hopeful that we can turn the corner. But it needs a global realisation of the significance of climate change and loss of biodiversity.
---
---
Alan Simpson, a previous Labour MP and now advisor to the Labour party on environmental issues, has written the following in the Morning Star:
https://morningstaronline.co.uk/article/f/climate-jesus-versus-pharisees
It is entitled "Climate Jesus versus the Pharisees", with the sub-heading:
We need to stop building more runways, motorways, or shopping malls and replant forests, green our cities and give pollinators places to feed, breed and shelter in.
Alan Simpson
"As political parties dust themselves down after the drubbing of local government elections, the good news is that all the answers are to be found in bigger, rather than smaller, issues.  Climate, not Brexit, is the key.
We live in revolutionary times. And we have our children to thank for still filling them with hope rather than despair.
The unthinkable is happening. Parliament, public institutions and the press are waking to the fact that climate change can only be constrained by systems change. This recognition is still in its infancy, but it is already unstoppable.
I recently came across an early version of what will have to be every (credible) party's next election manifesto. Pasted up on a wall was a simple drawing of an elephant, with the words "climate change" on its back. It summed up what all future political choices revolve around: climate change is the elephant in the room.
Labour can pride itself for having introduced the world's first Climate Change Act, and for passing the first "climate emergency declaration," but we shouldn't pretend that Parliament wasn't "bounced" into doing so.
Since the 2017 general election, there have been ample opportunities for MPs to show real political leadership on the climate crisis. They never did. Instead, Parliament has preferred to play Trivial Pursuit with Brexit absurdities.
Social movements had to step into the vacuum; addressing the big picture issues politicians had been choosing to ignore. They, and they alone, have been the ones insisting that existential threat to human existence forms the centrepiece of political debate. Across the planet, this has been a debate shaped from outside parliaments, not inside.
We now know how much we owe to our children for doing so. But while the kids may have written the script, they weren't alone. "One Planet" documentaries helped. So too did insightful journalism, climate physicists and church leaders. With the latest protests taking place over Easter it was really helpful for church leaders to have pointed out that, though protesters were undoubtedly breaking the law, Christ too had entered Jerusalem knowing he would face prosecution. Ultimately, however, it was the creative irreverence of Extinction Rebellion (XR) that has turned this into a movement that cannot be stopped.
In place of derision, Greta Thunberg is no longer the lonely child outside an indifferent parliament. Without vanity, she trailed an uncompromising challenge to every adult Establishment on the planet. The abuse she received from parts of the press that continue to be at the heart of the problem merely accelerated the growth of the movement.
Britain's Climate Change Committee (CCC) would not have had the political space to bring forward their own "pull your finger out" report without the occupations that brought London streets to a halt. Nor would they have been listened to. The latest UN report on species extinctions now gets treated as evidence, not argument.
Politicians of all shades queue up, calling for a programme to deliver the CCC rescue plan.
Few grasp the upheavals involved (or that, in itself, this will still not be enough). Over 60 per cent of what the CCC calls for involves behaviour change; all of which is doable. What they duck is that you won't get behaviour change without systems change.
The gap between Extinction Rebellion and the CCC may be one defined by climate physics, but it can only be delivered through transformative politics. This is precisely what Jeremy Corbyn and John McDonnell have been calling for. For the party as a whole, though, this invitation is where the problems begin.
Internal battle-lines are already being drawn. How can Labour deliver climate stability if large parts of the party are still locked into airport expansions, fossil fuel subsidies, expanding road programmes and the illusion of a new era of global free-trade deals?
Physics tells us there are no "slow track' survival options left.
Labour traditionalists insist they need longer timescales than the one (decisive) decade in which the science calls for transformation.
Those pushing for faster change already face criticisms of "trying to play Climate Jesus."
What their critics fail to see is that the imagery puts slow-track traditionalists into the role of Pharisees; defenders of an order that is about to implode.
The Tories have made themselves almost irrelevant to this conversation. Conservative supporters no longer even look to their party for bigger answers. It is a party in free-fall disarray. Bless. But cross-party Brexit negotiations risk dragging Labour down too.
Theresa May should be left to sink on her own. The last thing Labour needs is a to be part of a suicide pact.
A better starting point lies somewhere between Extinction Rebellion and the CCC. To join in, Labour may need to tear up whatever has been its draft manifesto for the next election, replacing it with a new "climate emergency" one.
Tomorrow's political stability will revolve around societal mobilisation and ecosystems repair. This requires a new economics that can live within contracting carbon budgets, give fresh life to abandoned localities (as key drivers in tomorrow's sustainable, low-carbon economics) and offer an antidote to today's obsessive, self-destroying consumerism.
Conventional pledges to fairness, inclusivity and rebooting an industrial economy don't automatically answer this existential threat. Suggestions that Labour might do so by expanding production, consumption and world trade would be ridiculed by XR, scientists and schools climate strikers alike. In the ballot box, it would be a disaster. We all need a different script.
Former Labour leader Ed Miliband was right in telling Radio 4 that the British economy must be "put on a war footing to tackle climate change." This "footing" must begin with reversing the damage we're currently doing. The latest UN report, Nature's Dangerous Decline, details the risk of 1 million species — not types of plants, animals, birds or insects, but whole species — facing extinction within the coming decades.
The answer isn't to go building more runways, motorways or shopping malls. What we need is to replant forests, green our cities, and give pollinators places to feed, breed and shelter in. And for the public, we need a national programme to green the nation's habitat too; delivering warm homes that also produce more energy than they consume.
I don't care if this gets denounced as "loaves and fishes" idealism. It's what the science (and the kids) know is our only choice. Today's Pharisees can protest as much as they like that "the system" needs more time — to cleanse the air, restore the seas and heal the soils.
But time is the one thing they no longer have.
Outside the parliamentary temple, a growing social movement understands that we can either save "the system" or save society, but not both. Like Corbyn and McDonnell, this movement calls out for transformative change. Anyone's manifesto that offers less will not be seen as Old Testament, just old hat.
It's what the science (and the kids) know is our only choice. Today's Pharisees can protest as much as they like that "the system" needs more time — to cleanse the air, restore the seas and heal the soils.
But time is the one thing they no longer have.
Outside the parliamentary temple, a growing social movement understands that we can either save "the system" or save society, but not both. Like Corbyn and McDonnell, this movement calls out for transformative change. Anyone's manifesto that offers less will not be seen as Old Testament, just old hat."
---
---
And another article, published by phys.org, highlights the importance of plant species, and their loss, on human needs:
https://phys.org/news/2019-06-species-extinctionand-danger-poses-life.html
Up to 1 million species may go extinct due to human activity according to a recent report, some within decades. We all know the mammals in trouble—polar bears, giant pandas and snow leopards—but how many of us could name an endangered plant? A 2019 report assessed 28,000 plant species and concluded that about half of them were threatened with extinction.