In an article in The Independent, Phoebe Weston states that Scotland has planted 22 million trees to tackle the climate crisis, whilst England has not met its target, falling short by 7 million, or 3,000 hectares.
A total of 11,200 hectares of Scottish countryside were covered, according to Government statistics.  But in England just 1,420 hectares of woodland was planted, despite a target of 5,000 hectares being set, figures from the Forestry Commission suggest. This means it missed its annual target by seven million trees.
While the overall figures for the UK in the year to 31 March are up, that success is down to large increases in Scotland, Wales and Northern Ireland, the Woodland Trust said.
The percentage of woodland cover in the UK remains at 13 per cent, with 10 per cent in England, 15 per cent in Wales, 19 per cent in Scotland and 8 per cent in Northern Ireland.
The number of trees planted in Scotland now represents 84 per cent of the UK total. Increasing the number of trees being planted is part of the country's efforts to tackle climate change, with a target of 15,000 hectares a year set to be in place from 2024-25.
After the latest figures were released, Abi Bunker, from the Woodland Trust, said: "The UK needs renewed ambition when it comes to tree planting and woodland expansion. The scale of what needs to be achieved to reach net zero targets is obvious; it will necessitate a three-fold increase on current levels."
In the meantime, it has been announced on the Government's website that Sir William Worsley has been reappointed to continue his drive to accelerate tree planting rates. The chair of the National Forest Company was tasked last year with setting a bold direction for the country's forests and woodlands over the next 25 years.
Now Sir William is marking his reappointment with a call to land owners, farmers and foresters across the country to take up the mantle of tree planting by accessing the Government's Woodland Creation Grant Scheme.
Through this fund, which is now open for applications all year round, planting grants of up to £6,800 are available to help landowners realise the benefits of expanding woodland cover.
https://www.gov.uk/government/news/tree-champion-reappointed-to-continue-tree-planting-push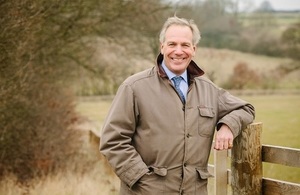 Sir William Worsley
---
---