This report is taken from The Guardian 17th March 2020 by Steven Morris:
https://www.theguardian.com/environment/2020/mar/17/uks-first-super-national-nature-reserve-created-in-dorset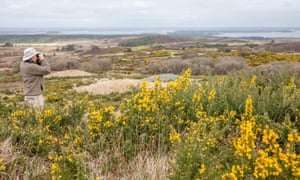 It is a rich, complex landscape, a mosaic of heaths, woods, mires, reed beds, salt marsh and dunes that are home to a myriad of flora and fauna from rare birds, butterflies and bats to carnivorous plants.
Seven landowners have now joined forces to created what is being billed as the UK's first "super national nature reserve" (NNR) on Purbeck Heaths in Dorset.
The idea is that by combining the disparate chunks of land, a more dynamic landscape easier to manage in a more natural way – and much simpler for wildlife to navigate through – will be created.
A stonechat, a bird the size of a robin with a call like two pebbles being hit together, provided the backing track as experts from the National Trust, RSPB and Natural England pointed out the features of the new super reserve from a vantage point high above the heathland.  Other rare species of birds, reptiles, butterflies and insects can also be found there.
A major aim of the super reserve project is to help such creatures spread further so they do not rely on just one tiny area – and so face being wiped out if disaster strikes their home patch.
Purbeck Heaths is one of the most biodiverse places in the UK – home to thousands of species of wildlife, including 450 that are listed as rare, threatened or protected.
All six native reptiles are to be found here, including endangered smooth snakes and sand lizards. As well as the smaller birds such as the stonechat, raptors including hen harriers, marsh harriers, merlins, hobbies and ospreys hunt the heathland. It is also one of the last strongholds for many specialist insects and other invertebrates, such as southern damselflies and the Purbeck mason wasp.
the Southern Damselfly
---
---