This article was published in The Conversation on September 1, 2020 and written by Simon Stranks, a lecturer in Energy and Royal Society and University Research Fellow, University of Cambridge. He is also a co-founder of Swift Solar Inc.
https://theconversation.com/how-a-new-solar-and-lighting-technology-could-propel-a-renewable-energy-transformation-133658
The demand for cheaper, greener electricity means that the energy landscape is changing faster than at any other point in history. This is particularly true of solar-powered electricity and battery storage. The cost of both has dropped at unprecedented rates over the past decade and energy efficient technologies such as LED lighting have also expanded.
Access to cheap and ubiquitous solar power and storage will transform the way we produce and use power, allowing electrification of the transport sector. There is potential for new chemical-based economies in which we store renewable energy as fuels, and support new devices making up an "internet of things".
But our current energy technologies won't lead us to this future: we will soon hit efficiency and cost limits. The potential for future reductions in the cost of electricity from silicon solar, for example, is limited. The manufacture of each panel demands a fair amount of energy and factories are expensive to build. And although the cost of production can be squeezed a little further, the costs of a solar installation are now dominated by the extras – installation, wiring, the electronics and so on.
This means that current solar power systems are unlikely to meet the required fraction of our 30 TeraWatt (TW) global power requirements (they produce less than 1 TW today) fast enough to address issues such as climate change.
Likewise, our current LED lighting and display technologies are too expensive and not of good enough colour quality to realistically replace traditional lighting in a short enough time frame. This is a problem, as lighting currently accounts for 5% of the world's carbon emissions. New technologies are needed to fill this gap, and quickly.
The article then goes on to describe a new family of materials being developed in a laboratory in Cambridge. These are called Halide Perovskites, which are semi-conductors, which conduct charges when stimulated with light.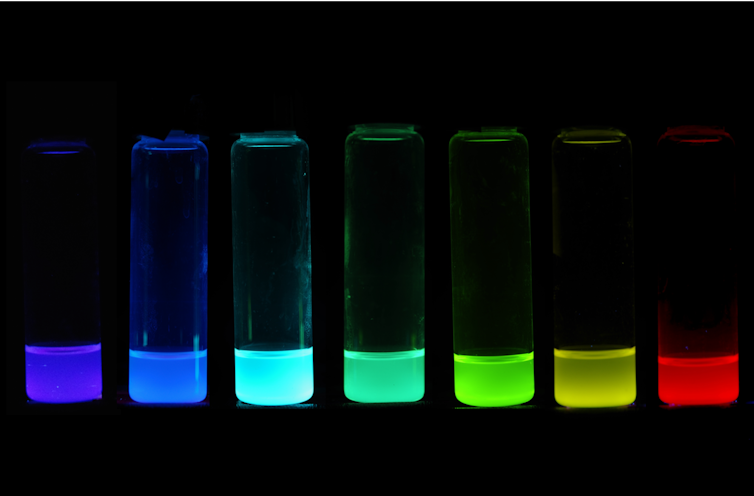 Coloured perovskite light-emitting inks that can be cast down into thin films
There are still challenges to developing this technology commercially but the author sets out the way forward. Please see the article for a full description.
______________________________________________________________________________