Oliver Ralph, insurance correspondent for the Financial Times reported on this on 20th December 2017.  His main source of information was Swiss Re, a leading wholesale provider of reinsurance, insurance and other insurance-based forms of risk transfer. See: www.swissre.com.
According to Ralph's figures, natural and man made disasters caused $136 billion of insured losses in 2017, more than double the 2016 figure and well above the 19-year average of $58 billion.
Most of the losses have been as a result of hurricanes, wildfires and earthquakes in the Caribbean, southern US and Mexico.
Insurers and reinsurers are currently negotiating premiums and many predict widespread increases. However, there are signs that prices are not rising as swiftly as many predicted, apparently because insurance companies are awash with capital. Investors believe that insurance companies will give a higher return than elsewhere.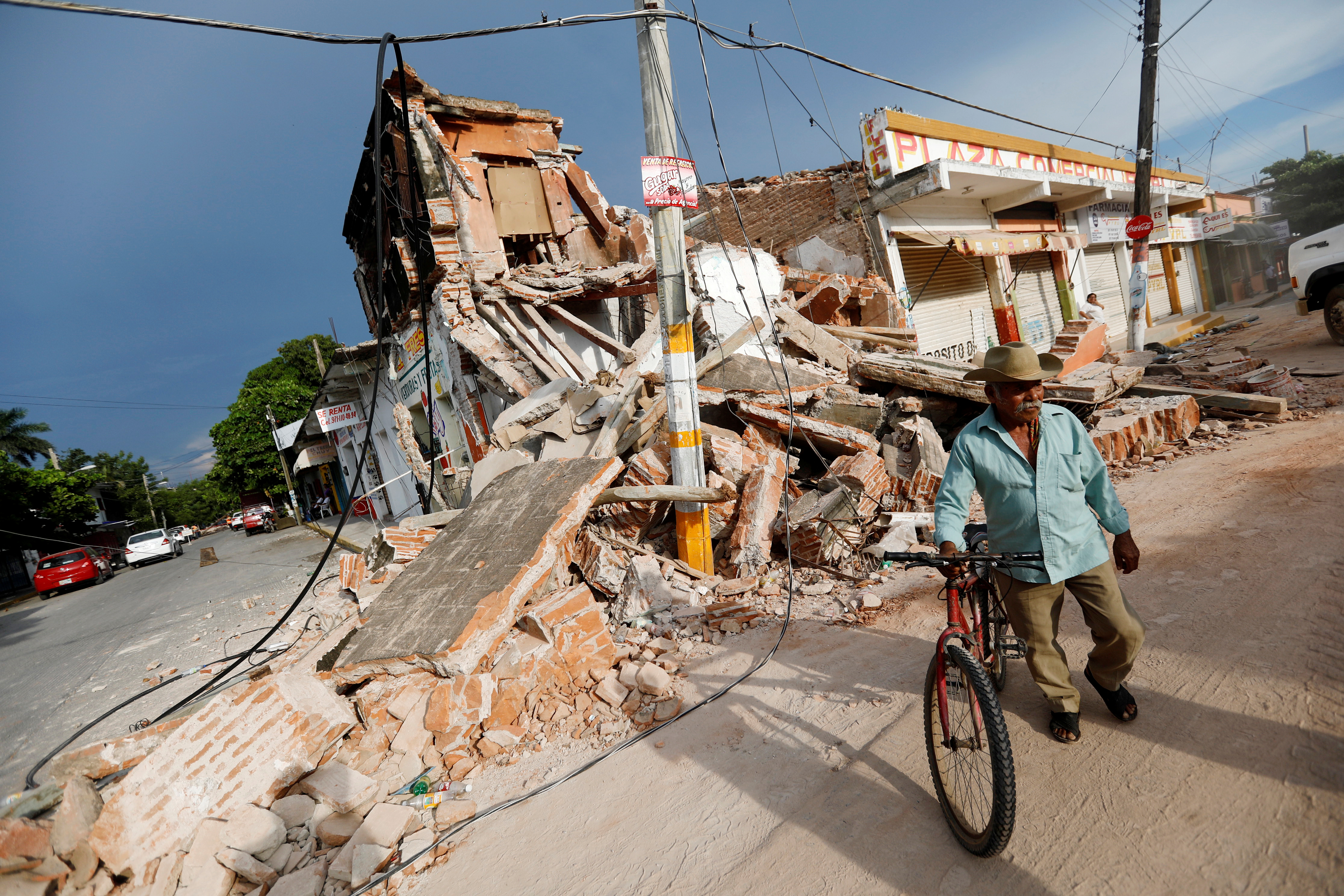 Image from the Mexico earthquake in 2017
---
Lloyd's of London will look to cut costs after a year of expensive natural catastrophes plunged the insurance market into a £2 billion loss, its first in six years.
Lloyd's reported a pre-tax loss of £2 billion for the year to December 31 (2017), compared with a profit of £2.1 billion in 2016, after it paid out £4.5 billion in compensation to victims of a spate of natural disasters.
During one of the most expensive hurricance seasons on record last year, Hurricane Harvey ripped into Texas in late August, followed swiftly by Irma, which hit the Florida peninsula, and then Maria, which left devastation in its wake in Puerto Rico. There were also devastating wildfires in California, an earthquake in Mexico, monsoon flooding in Bangladesh and a mudslide in Colombia.
Lloyd's of London is the world's oldest insurance market, whose history dates back to coffee houses in the City in 1688. It is based in the renowned Lloyd's building in the heart of the City. It acts as the umbrella organisation for the insurers and brokers who provide commercial cover in areas ranging from shipping and airlines to oil rigs and trains, often choosing to pool the risks they take on by forming syndicates of underwriters.
During the course of its existence, it has survived several near-death experiences, including the impact of a wave of asbestos-related claims during the 1990s and the seizure of the airline market after the 9/11 terrorist attacks of 2001. It also fought, and won, a damaging battle with wealthy insurance investors, known as Names, who claimed they were misled over risky deals they bought into in the early 1990s.
As well as the London market, Lloyd's operates in overseas markets from the US and China to emerging markets such as Africa. It has also got involved in new areas of insurance, including providing cover against cyberattacks.
The world's insurers are estimated to face a collective bill for last year's disasters of about $140 billion, according to experts at JLT Re, a unit of Jardine Lloyd Thompson. Lloyd's paid out £18.3 billion in claims last year, including £4.5 billion in connection with natural disasters, more than double the previous year. The catastrophe-related losses wiped out the effect of a 12.4 per cent increase in gross written premiums to £33.6 billion during the year and a 38 per cent jump in the return that Lloyd's generated from investing the premiums received, from £1.3 billion to £1.8 billion.
Inga Beale, who took charge of the Lloyd's market four years ago, described 2017 as an "exceptionally difficult year" for the insurance market and the organisation wil now focus on a cost-cutting and efficiency drive. All of Lloyd's members had been ordered to process 30 per cent of their insurance quotes and risk-related documentation electronically by the end of September to bring down their expenses.
---